Nice official thread
ijapino
....one of those that will be used for reference a lot, almost like the sneaker maintanence one. I find myself wondering about a few kicks he wore as well so this a great post!!!
Blazers21NTNP
 also held it down in the original thread which was asked about for MJs playoff kicks also...good work by both of you guys.
I wasn't even aware in '95 he wore the 11s! I definitely knew about the Penny flight 1s but not those. Well it was around that time '93-'95 that I started to understand and look at bball  cuz of MJ (as otherwise I was strictly tennis- big Sampras fan) but wasn't inclined to checking out the shoes too much till the '96-'97 season. So that was some great visual info...and it does appear, if you look closely in your pic that there was a blue jumpman on the then "black/white" 11s which we will later affectionately know as the Space Jams. Maybe to be considered then as an Orlando 11? Much like what we saw done recently with the 6rings (just for reference sake) with the Utah, Seattle, Portland, Detroit and LA colourways?  
-and yall 4got the lightning 17 lows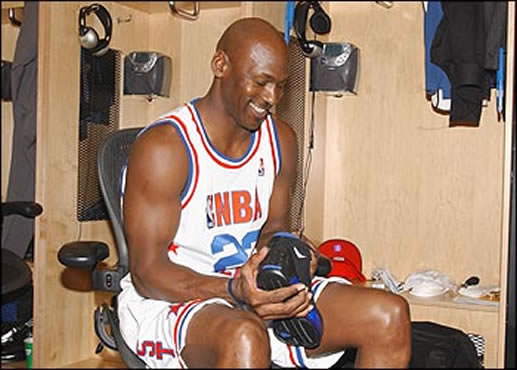 Media availability ASG Atlanta 2003