Most disappointing of 2011.
Warning: Spoiler!
(Click to show)
Spoiler
There's nothing unusual about getting off to a bad start. When a star begins the season poorly, people rightfully shrug and figure that the player will eventually start playing at his normal level. But as April turns into May and May turns into June, the doubts start to speak a bit louder. We're more than a third of the way through the season, and while going into full-blown panic usually isn't warranted, one does need to adjust expectations downward for a player who is still scuffling.
Not all bad seasons are created alike, though. For example, changes in walk and strikeout rate are far more likely to be retained going forward than changes in batting average on balls in play (BABIP). A homer outage for a home run hitter is a greater cause of concern than a singles hitter having a single outage.
So, which full-time players with worse-than-usual season lines should we be most concerned with? With the aid of the ZiPS projection system, I found the hitters and pitchers whose poor years have most negatively affected their short-term and long-term performance. For each player, I've included their projection from before the season and their expected projection for the rest of the season (BA/OBP/SLG for batters and ERA for pitchers).
Hitters
5. Adam Dunn -- Preseason: .252/.383/.539, Update: .235/.369/.490
There were good reasons going into the year to expect Dunn to do well in Chicago. While Dunn has always displayed what Bill James referred to as old players' skills -- walking and hitting homers -- he's only 31 and had hit 38 or 40 home runs in every year going back to 2005. U.S. Cellular Field is the best homer park in the AL and it seemed custom-fit for the former Nationals slugger. Instead, it's June and he has a slugging percentage worse than Juan Pierre. Dunn will end the year with an OPS better than .623, but the odds are that we're seeing the start of his decline.
4. Vernon Wells -- Preseason: .260/.313/.432, Update: .248/.297/.415
When the Angels acquired Wells this winter, the chances were already slim that he would perform well enough to justify the rest of his $126 million contract. With him hitting .183, those chances have gone from slim to none. Early in the season, Angels fans at least got to point out that the Red Sox similarly received poor performance from their big outfield acquisition, Carl Crawford, but Crawford has been playing much better and almost has his numbers up to respectability. Wells will soon be back from a groin injury, but the sooner top prospect Mike Trout can get to the majors, the better it is for the team.
3. Miguel Tejada -- Preseason: .287/.319/.411, Update: .271/.301/.375
Tejada has done a solid job as a defensive shortstop, but the Giants hoped going into the year that he'd be respectable offensively as a short-term replacement for the departed Juan Uribe. Instead, Tejada's OPS is an abysmal .515 and, at age 37, the odds are good that Tejada has gone over the proverbial cliff. Already 15th in the league in runs with the benefit of two months of Buster Posey, the team needs to get more offense and has to seriously consider giving the surprising Brandon Crawford a shot.
2. Dan Uggla -- Preseason: .259/.346/.469, Update: .241/.324/.437
Uggla was Atlanta's big acquisition this winter, and at .172/.240/.312, he is a bigger initial disappointment than even the team's previous hitting acquisition, Nate McLouth. Uggla's BABIP will rise, but he's also hitting a ton of ground balls and is swinging at nearly 40 percent more pitches outside the strike zone than he did two years ago. The Braves' owner, Liberty Media, isn't an aggressive spender, and may be even more skittish with Uggla struggling only two months into a five-year, $62 million contract.
1. Chone Figgins -- Preseason: .262/.353/.322, Update: .245/.327/.303
When the Mariners signed Figgins, the main concern was whether he'd still be a good player at the end of his contract. Instead, Figgins has been a disaster since he stepped on the field. At .184/.227/.245, and with Figgins having the worst defensive numbers of his career as a third baseman, the Mariners would be extremely pleased just to get his disappointing 2010 line of .259/.340/.306. Figgins is so punchless with a good pitch at this point that pitchers aren't even bothering to throw bad pitches, resulting in Figgins' drawing walks at only half his career rate, just two years after being the first primary leadoff hitter to walk 100 times since Rickey Henderson more than a decade ago. The M's are in second place, just 2½ games out of first, and they will need to turn to Alex Liddi as soon as possible.
Pitchers
5. John Lackey -- Preseason: 4.14 ERA, Update: 4.50 ERA
Lackey has had a lot of non-baseball issues to worry about -- in the last year his wife had a miscarriage and a breast cancer diagnosis -- but there have been baseball reasons to be worried about Lackey. Since peaking at nearly a strikeout per inning in 2005 (8.6), his K rate has gone 7.9, 7.2, 7.2, 7.1, 6.5, and now 4.2. While it's likely that Lackey's personal issues are hindering his performance, his decline has been a long time coming.
4. Javier Vazquez -- Preseason: 3.84, Update: 4.18
Vazquez's fastball hasn't come back in Florida and his ERA is more than a run worse than last year's 5.32 that resulted in his being left off the Yankees' postseason roster. Like many, I thought this was a decent gamble for the Marlins, but at this point, the best they can hope for is that Vazquez is injured.
3. Brett Myers -- Preseason: 3.98, Update: 4.38
Legendary executive Branch Rickey once posited (allegedly) that it was better to trade a player a year too early than a year too late. That memo didn't filter down to Astros GM Ed Wade, who instead of trading Myers last season during his best season while the team was out of the pennant race, instead double-downed and paid Myers based on his best season. Leading the NL with 15 homers allowed, the Astros find themselves with an untradeable, expensive batting practice pitcher.
2. Colby Lewis -- Preseason: 3.71, Update: 4.20
At face value, Lewis' 4.37 ERA doesn't look too bad, as he's still a league-average pitcher. This year, though, Lewis has already allowed 17 homers and has a disappointing 5.20 in Fielding Independent Pitching (FIP). One starts to wonder if Lewis' control is perhaps too good, the same malady that caused the downfall of Josh Towers.
1. Edinson Volquez -- Preseason: 3.66, Update: 4.16
After the 2008 season, the trade of Josh Hamilton for Volquez and Danny Herrera looked fairly even. Since then, Hamilton has hit .322/.372/.548 and collected his first MVP award while Volquez has a 4.96 ERA in just 163 1/3 total innings. This was supposed to be the big year for Volquez after two years ruined by Tommy John surgery and then a 50-game drug suspension. While Volquez can still be a league-average pitcher for the Reds, the team has to adjust expectations -- whatever's wrong with Volquez (6.35 ERA), a punitive two-start demotion to Triple-A isn't going to fix it.
Reyes and his free agency.
Warning: Spoiler!
(Click to show)
Spoiler
Jose Reyes won another game for the Mets, tacking another moment onto his early-season MVP candidacy. Day by day by day, he demonstrates how good he is and the impact he makes when he's on the field.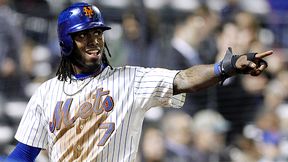 Getty ImagesThe Mets have a major decision to make on Reyes.
There are natural questions that follow Reyes and whether he can stay healthy, given his injury history. When Fred Wilpon infamously stated in a New Yorker article that Reyes wouldn't get Carl Crawford money -- the outfielder got a seven-year, $142 million deal from the Red Sox -- the owner's skepticism was presumably based on those concerns.
But Reyes is showing, again, that when he plays, he is a star. He's leading the National League in hitting, at .339. He's got 30 extra-base hits already, and a slugging percentage of .512. He's on pace for 49 doubles, 30 triples and three homers.
Keep in mind that Reyes turns 28 this weekend. He's younger than Crawford. Reyes plays a premium position, and is an excellent defensive shortstop.
As executives with other teams evaluate Reyes and quietly ask questions about his personality and his makeup, as the Red Sox did about Crawford, they will hear over and over what a good guy Reyes is, and how perfectly his personality would play in any baseball clubhouse. He brings a smile to the clubhouse every day, Mets manager Terry Collins said over the weekend, regardless how he played the day before, and Reyes desperately wants to play. "If you try to take him out of the lineup, he'll fight you," Collins said.
There is an energy level that Reyes brings to the ballpark every day, the kind of energy that is needed in New York.
Wilpon may be right; Reyes won't get Crawford money. If he keeps playing like this, Reyes may get more.
And day by day by day, the same Mets fans who are extremely unhappy with the Wilpons and their ownership of the team are making more noise about wanting to keep Reyes. He is home-grown, he belongs to them, he is one of them. He has made it clear in the past: He loves playing in New York, and would like to stay
When Fred Wilpon gave time for the interviews with The New Yorker and Sports Illustrated, he was trying to stir up sympathy and an understanding of what his family has gone through in the Madoff scandal. His words about Reyes, David Wright and Carlos Beltran obscured that other side of the story, however, and as the fans in Citi Field increasingly respond to Reyes and his success in 2011, Wilpon has to know this: Reyes' situation is becoming a referendum on the Wilpon ownership.
If Wilpon wants to win back some of the favor of his fan base, the most efficient way would be to sign Reyes. If Wilpon doesn't re-sign Reyes, and the Mets' homegrown MVP candidate is traded or walks away as a free agent, a significant portion of the fan base that already knows it's in for a period of rebuilding may never forgive the owner.
Notables
• Wrote here Sunday about the strong sentiment within the Atlanta clubhouse that they want Jason Heyward to get back on the field and go about the business of making needed adjustments at the plate. Chipper Jones talked about it with David O'Brien:
"What Jason needs to realize is that Jason at 80 percent is a force, and Jason at 80 percent is better than a lot of people in this league. And that there are a bunch of his teammates that are out there playing with discomfort and not healthy, and still going at it."
Right now, Heyward has a lot at stake with his teammates, whose frustration with his absence is growing.
• A couple of young Dodgers led them to a win on Tuesday night, and along the way, Matt Kemp hit another homer. He would probably be the leading candidate for NL MVP if the voting were to take place today; he is doing unbelievable damage early in the counts this season. For instance:
-- When he puts the ball in play on the first pitch: 10-for-23, three homers, an OPS of 1.371 -- When he puts the ball in play on the second pitch: 23-for-45, seven homers, 20 RBIs
• The Cardinals' No. 2 hitters this year have an .869 OPS, second-best in the majors. But this is not unusual: In most years, the No. 2 hitters in the St. Louis lineup fare well, taking advantage of how Tony La Russa structures his lineups and places them ahead of Albert Pujols. Here's their OPS among No. 2 hitters recently:
2010: 5th
2009: 19th
2008: 3rd
2007: 1st
• The early exit of Mark Teixeira was the big-picture concern for the Yankees, writes Dave Caldwell. But tonight, the great question will be whether A.J. Burnett will buzz somebody, after Teixeira was hit and after Joe Girardi expressed a lot of unhappiness with David Ortiz's bat flip. From Peter Abraham's story:
Girardi at least had the gumption to comment when asked about Ortiz's bat flip after his majestic two-run homer in the fifth after [Hector] Noesi had thrown the previous pitch at Ortiz's legs but missed. "I didn't care for it," Girardi said.
The manager went on to say, "I don't know if [Ortiz] was upset that he came in hard on him."
Ortiz said he wasn't upset.
It just so happened that after he was brushed back, he picked himself up and homered.
It looked like, "OK kid, you're going to come in on me? I'm going to take you deep."
Girardi did say "I never had a problem with David. David has always played the game hard. I'm just protecting my young kid."
The Yankees may need to retaliate, writes John Harper.
Meanwhile, Ortiz moved up on this list for the most HRs versus the Yankees as a member of the Red Sox:
Ted Williams: 62
Carl Yastrzemski: 52
Jim Rice: 36
Manny Ramirez: 36
David Ortiz: 32
Dwight Evans: 32
The draft
• The Cubs took the son of
a former Cub
.
• Joe Girardi has known the Yankees' first draft pick for a long, long time.
• Wayne Gretzky's son was drafted (also by the Cubs).
• The Jays invested heavily in high school arms.
• The Nationals took Bryce Harper's brother, and Ivan Rodriguez's son was also drafted, as Adam Kilgore writes.
• The Rays' No. 1 pick is not answering questions about his past, writes Joe Smith.
• A couple of Hank's Yanks were taken in the draft.
• The Angels took advanced college players.
• The Mariners went to a worldwide draft, writes Larry Stone.
• Eddie Gaedel's great-nephew was drafted, as Don Norcross writes. Don't worry: The kid is 6-foot-3, 220 pounds.
• The Astros' No. 1 pick can do flips, as Jerome Solomon.
• The Rangers focused on pitchers.
• The Royals took a bunch of high school seniors.
• Satisfying expectations will be tough for Dylan Bundy, writes Peter Schmuck.
Moves, deals and decisions
1.
With
Pablo Sandoval
coming back, the Giants have to decide
about what to do
with
Miguel Tejada
very soon.
2. Jonathan Papelbon was suspended.
3. The Giants could be looking for a catcher, Andrew Baggarly writes within this notebook.
4. A couple of D-backs were suspended.
5. The Pirates added a left-hander.
6. Aroldis Chapman was sent to Class A.
Dings and dents
1.
Padres prospect Anthony Rizzo is
hurting
. Not good.
2. The Cardinals got Lance Berkman back, but now Allen Craig is hurt.
3. Jake Peavy was placed on the DL.
4. Brett Anderson landed on the DL.
5. Magglio Ordonez is close to coming back to the Tigers' lineup.
6. Jayson Werth was scratched.
7. Brian Roberts could be a couple of weeks away from starting baseball activities. I don't think there's a lot of expectation within the Orioles organization that Roberts will be part of the solution.
8. Denard Span was sent home.
Tuesday's games
1.
The Tigers racked
up 20 hits
.
Brennan Boesch
is working to relax and
focus on strikes
. From ESPN Stats & Information: The Tigers have registered at least 18 hits for the second straight game. The only other time in the expansion era (since 1961) in which the Tigers had consecutive games with at least 18 hits came on August 11-12, 1993. Looking ahead, the Tigers have never had three straight games with at least 18 hits in the live ball era (since 1920). The Tigers scored eight runs on 20 hits in a win over the Rangers. It's the first win for the Tigers with at least 20 hits and fewer than 10 runs since a 9-8 win (21 hits) over the White Sox on Aug. 17, 1957.
2. The Indians' win over the Twins felt like a big one for them, a step toward ending the recent bleeding. How Carlos Carrasco dominated the Twins:
• He tied a career-best with 14 ground-ball outs, 10 of which came on his fastball. He attacked up in the zone with his fastball, getting eight ground-ball outs on pitches at the belt or above.
• Carrasco had good command of his slider, especially to righties. Thirteen of his 16 sliders to righties were away, and hitters missed on six of their eight swings in that spot. Overall, hitters were 0-for-7 on at-bats ending in a Carrasco slider, including three strikeouts. His seven outs and three strikeouts on his slider both tied a career-best.
3. Fernando Salas was referred to as closer by his manager after a huge outing Tuesday, and that's a big deal.
4. Edinson Volquez came back without his dreadlocks, with better results.
5. Oakland continues to lose, despite the debut of Jemile Weeks.
6. The D-backs blew a lead.
7. Tommy Hanson and Alex Gonzalez fostered a lead, and the Atlanta bullpen took it from there, as David O'Brien writes.
8. Ubaldo Jimenez was good, but didn't get a lot of support.
9. The Giants failed to capitalize on chances and lost.
10. Kyle Drabek struggled , but the Jays hit through that.
11. Jordan Zimmermann was The Man for the Nationals, again.
12. The Phillies' offensive dysfunction took many forms on Tuesday, writes Matt Gelb. Roy Oswalt lost again; from Stats & Information, here's some stuff about his fastball:
Although Roy Oswalt has a 2.70 ERA through nine starts this season, when looking deeper into the situation, Oswalt has not been nearly as effective as in seasons past, with most of it predicated on the decline of his fastball. As you'll see below, his fastball has lost velocity, is generating fewer strikeouts and more contact. In addition, he's failing to go as deep into games as he did last season. Look at his average fastball rate the last two seasons, with 201o this first number, and 2011 in parentheses:
Avg velocity: 92.4 (91.4)
Strikeout rate: 22.8 (11.

Miss pct: 22.5 (15.
He's also averaging a full inning less than last season per start (6.6 vs 5.6).
11. Lyle Overbay sparked the Pirates, who are within a game of .500.
12. The Rays have a winning streak, and one of them got a beer shower.
13. The Angels came up empty.
14. The Mariners lost again, and then called up a minor leaguer.
15. Tim Stauffer hoisted the Padres on his shoulders.
16. A rookie's effort was wasted by the Marlins.
17. Matt Harrison and other Texas pitchers got pounded.
18. A former Brewer beat the Brewers.
19. Phil Humber was great, again.
20. It's difficult to describe just how bad the Cubs are.