Ryan Doumit, Twins ink one year deal.
Warning: Spoiler!
(Click to show)
Spoiler
Minnesota Twins interim GM Terry Ryan fired a second free agency salvo Friday as the club inked C-1B-RF Ryan Doumit to a one-year, $3 million deal. The deal, which is pending a physical scheduled for next week per Pioneer Press Twins reporter John Shipley, also includes unspecified performance-based incentives. Jerry Crasnick had tweeted earlier Friday that the former Pittsburgh Pirate was choosing between two teams, with the Seattle Mariners apparently drawing the short straw in the Doumit derby.
Since taking over the helm from Bill Smith just over a week ago, TR (too many Ryans to keep straight here) has been more active on the free agent market than in the past, as he officially inked infielder Jamey Carroll on Wednesday and had been linked to Doumit and Josh Willingham – both Matt Sosnick clients – as well a number of other free agents. The scaled-back budget doesn't appear to be much of a deterrence to TR; after all, if expenditures settle in near the $100 million mark, that would still be nearly $30 million more than he ever had to work with during his first go-round with the club.
It's an encouraging development for fans of a team desperate for good news following arguably the worst season in Twins history.
Doumit certainly had whittled his choices down to two clubs which could use his skill set. Dave Cameron noted that if the M's had inked Doumit, he'd have immediately become one of the club's best offensive players. Similarly, Doumit fits well within the Twins needs, as the team desperately showed it needed depth at the corners in 2011. That's unlikely to change given the uncertainty surrounding Joe Mauer, Justin Morneau, and the space that's currently assigned to Trevor Plouffe. Whether or not Doumit, who has only averaged 311 plate appearances per season, is the proper fit is the $3 million question.
Though I like the move for the Twins overall, let's first consider that this isn't a player without flaws. For one, he's yet to eclipse the 500 plate appearance mark in his seven-year career, in part due to injuries but also to platoon situations (.798/.718 OPS platoon split). For a team that spent the most time on the disabled list league-wide last season, this has to be a worry. He also isn't particularly adept defensively, as he grades out negatively in pretty much every defensive measure, including a glut of passed balls and only a 25 percent throw-out rate for attempted base thieves. Certainly some of that can fall on the pitchers, but I've yet to see a glowing scouting report on Doumit's defense. This may be covered up with regular time in the DH role, which is also an open spot on the Twins roster with Jim Thome completely out of the picture and Jason Kubel seemingly on the outs as well. In this instance, at least a repeat of his .830 OPS from 2011 would be paramount, lest the Twins want to employ a below-average DH.
Among Doumit's desireable attributes is his above-average pop, as his .171 iso can certainly attest. That a fair share his power tends to come from doubles and a small handful of triples will certainly help, as Target Field may quell some of his long ball power. Also, the platoon split may also be overstated a bit, as it's really just less power from the right-handed side (.262/.329/.389) than the left (.275/.336/.461). One quirk in Doumit's game that stands out is that he's a dead pull hitter when he puts the ball on the ground, but much more of a push hitter when he elevates the ball. It's hard to tell how exactly this will play out in cavernous Target Field, but Doumit has been a much better hitter at his home PNC Park – which typically plays rather neutral according to Baseball Reference park factors – than on the road.
As usual, $3 million doesn't go very far on the free agent market, and TR did well to fill one of the club's biggest holes – in reality, a couple holes simultaneously – relatively cheaply (and on a risk-free, one-year deal). Using extremely rudimentary math, that should buy about 0.6 WAR, a mark Doumit has failed to reach just once, in 2010, in his career. As yet, nobody from the organization has been quoted as such, but to me this move signals a white flag on the Cuddyer front, which probably also opens the potential for the club to sign Willingham, who for all intents and purposes is likely a better all-around hitter and should come at a fraction of the cost. By holding the second overall pick in the draft, this is also the best opportunity for the Twins to sign any Type-A free agents. By swapping out Cuddyer for Willingham, the Twins would gain a first round pick and similarly-talented hitter and it would only cost a second rounder, which the club would likely recoup in a Kubel signing.
It may be on the small scale, but TR seems to be working his magic again. After all, before figuring incentives, Doumit will only make as much as Tsuyoshi Nishioka in 2012. That's something legal-aged Twins fans will drink to.
---
Projecting park effects:  The Marlins' new stadium.
Warning: Spoiler!
(Click to show)
Spoiler
To everyone's surprise, the newly christened Miami Marlins have been one of the hottest teams on the free agent market so far. They're interested in nearly every high profile free agent, and it seems likely that they'll increase their payroll significantly this offseason and bring in at least one big name. Recent rumors have suggested that they aren't actually considered likely suitors for Albert Pujols, and they may not have offered Jose Reyes $90 million…but still, they are going to land someone this offseason. After this start to the offseason, they need to or else risk their fanbase turning fickle on them again.
When evaluating new acquisitions, one of the most important — yet often overlooked — parts of projecting performance is park effects. Every ballpark plays slightly differently, and players can see big changes in their year-to-year performance based on where they play their home games. Is a player spending half his games in hitter friendly Arlington, or are they in the pitchers haven of PETCO Park? To the vast majority of you out there, this is old news.
But here's where things get interesting: the Marlins are opening their new stadium next season, and we have no idea how it will perform. It could be a pitcher's park, could be a hitter's park — who knows? This added uncertainty makes evaluating their (potential) free agent acquisitions even more difficult. Why bother paying large money for a right-handed slugger if your stadium suppresses right-handed power considerably? It's tough to tailor your team to your park if you don't know how your park will perform.
Even if we don't know exactly how the Marlins' new stadium will perform, though, we can make some educated guesses. To the Bat Cave!
There are a large number of variables that effect if a ballpark is a pitcher's or hitter's park: wind direction and speed, wall size, park dimensions, ballpark elevation, local climate, etc. Some of these variables are easy enough to determine beforehand, while others are impossible to predict without a highly sophisticated modeling program (e.g. average wind direction/speed). Right now, let's focus on the variables we do know something about.
The climate and elevation for the new Miami Ballpark are straightforward enough: hot, humid, and close to sea level. One degree in temperature is worth around 0.033 runs (according to MGL), so the hotter it is on average, the more runs a team will score. This makes intuitive sense, as offense is difficult to come by in both early and late in the season when temperatures are cold. Remember how the bat stung on cold days in Little League? In Miami, players rarely (if ever) have to worry about that.
As for humidity, the research on that is mixed. From what I've found, humidity doesn't have any noticeable impact on run scoring or hit distance. If this is outdated, though, please feel free to correct me in the comments. However, the other variable works against the Marlins: height above sea level. Balls travel farther the higher you get above sea level (think Colorado), and Miami abuts the Atlantic Ocean. This probably helps keeps Miami from being a hitter's park like Arizona, which is both hot and at a high elevation.
Since the Marlins are merely moving a few miles away, all these variables will remain essentially the same. The Marlins will have a retractable roof now, so that may cool the game-time temperature by a few degrees now, but that's the only main difference from the Marlins' current park. Here are the recent park effects for Sun Life Stadium:
From Stat Corner.
The stadium as a whole grades out near average, but I find it interesting that the park boosts triples for righties and doubles for lefties, while slightly suppressing home run power for right-handed hitters. These effects are likely due to the park's dimensions, since it has a deep alley in right-centerfield and a high left field fence that's only 330 feet from home:
Gameday BIP Location (HRs, 3Bs, and 2Bs)
 The new Miami stadium will have similar dimension with a few key differences. Left field will be slightly deeper (340 ft.), but the wall will be the same height all the way around the stadium. Right field will be slightly shallower (335 ft.), but the park is still expected to have similar dimensions across the outfield. Right-center will still be a deep power alley (392 ft.), and centerfield will be 420 feet away from home (same as it is now, despite the label). Here's an estimated rendering of the dimensions: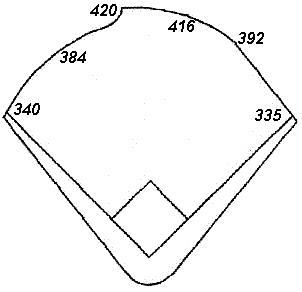 This picture is likely not 100% accurate in the details, but it gives you a general idea of the dimensions: deep to center and right-center, and deeper in left field than Sun Life.
Based on these dimensions, it seems likely that the new Miami stadium will still favor doubles for lefties; that deep right-centerfield alley is impressive. Also, bringing the right field wall in closer should increase lefty home run production slightly. As for right-handed hitters, I'd expect their home run rate to remain below average; despite the fact that the wall has been lowered, the deeper dimensions will still make it challenging to hit home runs out to left.
The triple rate for right-handed hitters will depend in part on the "Bermuda Triangle