Warning: Spoiler!
(Click to show)
Spoiler
Aaron Harang grew up about five minutes from what was once known as Jack Murphy Stadium in San Diego and would go to the park to watch the Padres, to watch Tony Gwynn; so signing with his hometown team over the winter was a good fit for him. His whole family is in San Diego, and his wife's whole family is there, too.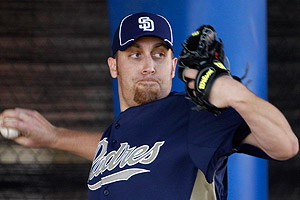 AP Photo/Charlie RiedelAaron Harang's fly ball tendencies now will be rewarded.
But the comfort level for Harang in San Diego will go beyond any daycare help from the relatives. After years of pitching in the Reds' tiny ballpark, where just about any ball hit into the air to right field was a candidate to land in the Ohio River, Harang will now make his home starts in Petco Park, which swallows fly balls.
For Harang, this is a very big deal, because he is a fly ball pitcher. Over the past four years, Harang ranks ninth among all pitchers (minimum 600 IP) in fly ball percentage (42.2):
Ted Lilly: 49.1
Jered Weaver: 48.0
Tim Wakefield: 46.0
Scott Kazmir: 45.0
Scott Baker: 45.0
Matt Cain: 44.4
Ervin Santana: 42.9
Johan Santana: 42.7
Aaron Harang: 42.2
Scott Regan of ESPN Stats & Information considered all the home runs that Harang allowed since the start of 2008 and imagined a universe in which Harang had been pitching in Petco Park over the past three years, rather than in Cincinnati. The difference would have been enormous.
From Scott: "Using the HitTracker Software, I was able to transpose/overlay every home-game home run that Harang has given up since 2008 (43 total) and plot it at PETCO. Looking at the diagram, where the park change might benefit Harang seems to be in right/right center where 11 of the home runs he had given up would have stayed in the park at Petco. Over the past three years (2008 to 2010), Harang has given up more home runs to right/right center than any other part of the park.
17 -- Right/Right center
16 -- Left/Left center
10 -- Center
Overall, 13 of the 43 home runs Harang gave up at home would not have been home runs in San Diego (30 percent). So as you see in the graphic, all the red dots are home runs in Cincy that wouldn't be in San Diego."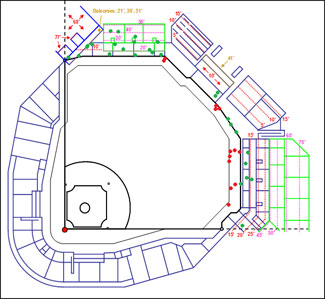 The red dots represent home runs in Cincy that would have been mere fly outs in San Diego.
Harang does feel that over time, pitching in Cincinnati affected his choices. Rather than pounding the strike zone with fastballs -- which is the approach that Harang had always had -- Harang felt himself trying to miss bats. Rather than challenging hitters, he became more apt to throw a breaking ball. "The last couple of years, I felt I was pitching away from contact, and in turn making mistakes," he said the other day.
After the Padres signed Harang, San Diego pitching coach Darren Balsley reviewed videotape from Harang's best seasons and determined that over time, Harang had tended to quicken his delivery. With this in mind, Harang and Balsley have worked to slow down the right-hander's mechanics, to get back to a little higher leg kick and holding his weight back on his right leg a little longer, before he drives toward the plate.
Chris Young had success for the Padres for years, thriving in Petco Park, with some dynamics similar to those of Harang -- a deceptive delivery that makes his fastball look a little faster, and as an acute fly ball pitcher. Harang isn't going to tailor his pitch selection to Petco Park; he just wants to get back to throwing the way he did in 2006 and 2007. "You can't go in with the whole mindset of 'I can make mistakes,'" he said. "I'm not going to go in there and nit-pick around. I'm going to be aggressive."
---
Harang has had an OK spring training, although he is the type of pitcher who could be particularly impacted by the conditions in Arizona.
Another member of the San Diego rotation, Tim Stauffer, had a good outing.
Notables
• John Mozeliak, the general manager of the St. Louis Cardinals, brought his golf clubs to spring training, and on the first day he arrived those sticks were placed in the trunk of his car. And the GM hasn't touched them since, because of a camp that began hectically. The Albert Pujols negotiations ended without an agreement, and then Adam Wainwright blew out his elbow. As Mozeliak talked over the phone on Wednesday morning, he mentioned that he is about to ask for the clubs to be packed away, to be taken to St. Louis.
The Cardinals' camp settled, though, after the Wainwright injury. Lance Berkman had elbow and leg issues early, but seems to be doing OK, and while new shortstop Ryan Theriot hasn't hit much this spring, Mozeliak feels like he's fit in well.
The Cardinals are also heartened by what they've seen from Kyle McClellan, who is expected to take Wainwright's spot in the St. Louis rotation. "In terms of what we've seen, it's what we would've expected," Mozeliak said. "He has a strong repertoire of pitches. The big challenge for him is going to be going through a lineup multiple times."
It's not as if the Cardinals are converting a lifelong reliever to plug a hole. McClellan competed against Jaime Garcia for a spot in the St. Louis rotation in the spring of 2010, and when he was told that he was being moved to the bullpen, he was deeply disappointed. McClellan pitched in relief and had a good season, posting a 2.27 ERA, and now, a year later, he's getting his shot.
"This is always what he's dreamed of doing," Mozeliak said. "Candidly, he felt like this is what he was going to do last year... I have a lot of confidence in him."
• It's looking more and more like Brian Wilson will open the year on the disabled list. And Cody Ross limped off the field.
• Heard this: The Rangers will likely decide by the weekend how they will use Neftali Feliz at the outset of the season. Alexi Ogando has been moved to the bullpen.
Matt Harrison had a good outing, perhaps locking up a spot in the Texas rotation. Meanwhile, Brandon Webb has been shut down again; we are nearing the two-year anniversary of his last appearance in a major league game, Anthony Andro writes.
• Heard this: The Nationals signed Oliver Perez based on a recommendation by pitching coordinator Spin Williams, who knows Perez from the days when both were with the Pittsburgh Pirates. There is no risk at all in this move, because Perez is being paid the minimum salary -- with the Mets picking up the rest -- and if Perez finds himself, there could be some reward for Washington.
• Gio Gonzalez continues to have an overpowering spring: He has a 2.14 ERA with 25 strikeouts in 21⅔ innings after his start Wednesday.
• Brandon McCarthy, who will be Oakland's No. 5 starter, has altered his pitching style, Susan Slusser writes.
• George Sherrill is having a shaky spring training, David O'Brien writes.
The battle for jobs
1. Kyle Drabek will be a part of the Toronto rotation at the outset of the season, in the No. 2 spot.
2. Rick Ankiel is likely to be the center fielder for the Nationals, which is not good news for Nyjer Morgan.
3. Brett Lawrie was sent to the minors -- but he will be back soon, Mike Rutsey writes.
4. Luis Castillo is happy for his opportunity with the Phillies, writes D. Murphy.
5. Brad Emaus is going to get a shot to be the Mets' second baseman.
6. Joe Girardi seemed to hint that Freddy Garcia will be the No. 4 starter, over Bartolo Colon, Erik Boland writes. I think the bottom line in this conversation for the Yankees is this: Garcia has a recent track record, given that he is coming off a 12-win, 157-inning season with Chicago, and Colon -- who has a total of 257 innings in the big leagues since the end of the 2005 season -- does not.
7. Matt Reynolds remains on target to win a job in the Colorado bullpen.
8. Kila Ka'aihue is likely to see more time at first base than Billy Butler, writes Bob Dutton.
9. The Reds figure to choose between Jeremy Hermida and Fred Lewis, for an extra outfielder.
10. Carlos Silva made a great case for himself, Paul Sullivan writes. Mike Quade wants the roles for the staff set by Saturday.
11. Kevin Slowey is adjusting to the bullpen.
12. Julio Borbon is likely to be the Texas center fielder.
13. Chris Johnson could be the long-term answer at third base for Houston, Richard Justice says.
14. Jason Michaels is a guy who can help the Astros in a pinch.
15. Matt Dominguez is not ready to hit in the big leagues, writes Mike Berardino.
16. The Rays' bullpen is basically settled, says Joe Maddon.
17. Dustin Ackley was sent to the minors, and Jack Wilson will open the year as the Mariners' second baseman, writes Geoff Baker.
Dings and dents
1. Brandon Morrow will start the year on the disabled list. There are a lot of components to this decision, including the Jays being proactive in managing Morrow's innings count early in the season. With Morrow feeling at less than 100 percent because of the muscular strain, the thinking was that it was better to make sure he's OK -- and to take the opportunity to pull back on the reins a little bit.
Remember, Morrow threw only 146.1 innings in 2010, striking out 178, so the Jays will probably keep him in the range of 175-180 innings this year. Morrow will make his debut on April 8.
2. It looks like Roy Oswalt is OK, after taking a line drive off his neck.
3. The Mets want Carlos Beltran ready for the start of the season, writes David Lennon.
4. Within this notebook, there is word that Vernon Wells came out of a game with a tight hamstring.
5. Carlos Guillen's future with the Tigers is in serious doubt.
6. A surgeon thinks Jake Peavy is OK; the target date seems to be May 1, writes Mark Gonzales.
7. John Jaso is dealing with a groin injury.
Moves, deals and decisions
1. We're coming up on the two-year anniversary of the day that Major League Baseball formed a committee to study the Oakland Athletics' ballpark situation.
2. Jorge Posada is willing to play elsewhere in 2012 if the Yankees don't want him back, writes Kevin Kernan.
3. A former marketing director will run the Negro Leagues Museum.
4. Homer Bailey is expected to get the ball in the Reds' second game.
Wednesday's games
1. Brian Matusz didn't last long against the Twins.
2. Watched a lot of the Mets-Cardinals game on Wednesday and came away with this: Jake Westbrook appeared very solid, in his best outing of spring training. And R.A. Dickey appears poised to have another strong season, throwing that hard knuckler of his.
3. Adrian Gonzalez went 3-for-6 in a Triple-A game.
4. Russell Branyan mashed a grand slam.
5. Ervin Santana was The Man for the Angels.
6. Chris Sale made an adjustment that helped him.
7. Twins manager Ron Gardenhire got to use the lineup he'll have during the season, and it has a whole lot of depth, Kelsie Smith writes.
8. Ricky Nolasco had a good outing. Which he needed.
Prospect stuff.
Warning: Spoiler!
(Click to show)
Spoiler
Arizona pitching prospect Jarrod Parker has regained his velocity after Tommy John surgery wiped out his 2010 season, but he showed inconsistent command and secondary stuff in big league outings this spring. He looked very promising in his outing in a Double-A game on Wednesday, but with the same issues that can serve as a reminder: velocity comes back quickly after ligament replacement surgery while everything else takes more time.
/sports.espn.go.com/espn/gallery/enlargePhoto?id=6253441&story=6253266">http://sports.espn.go.com...253441&story=6253266','Popup','width=640,height=750,scrollbars=no,noresize'); return false;" href="http://insider.espn.go.com/mlb/blog?name=law_keith&id=6253266#">[+] Enlarge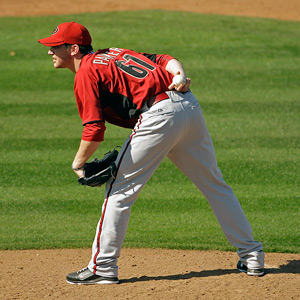 AP Photo/Charlie RiedelIf command follows velo, Parker could help the D-backs sooner rather than later.
Parker touched 96 mph and sat 93-95, occasionally dialing down as low as 90 to locate better, and showed promise with all three offspeed pitches, including a changeup with a ton of action on it followed by another changeup with no action on it. That kind of inconsistency isn't surprising for someone in year 2 of his recovery from Tommy John surgery, but I imagine it's frustrating for a pitcher who remembers how well he could locate before he got hurt. I'd expect Parker to return to Double-A to start the season and move up, either to Triple-A or to the majors, once his command returns and he shows he can consistently locate at least one of those two breaking balls. Given how strong he looks and how well he's repeating his delivery -- love that long stride to the plate -- that could happen midyear.
• Cubs shortstop Junior Lake certainly looks the part, tall, projectable, an above-average runner, with some bat speed. His swing is long, mostly because he loads his hands so deep, and his overall approach at the plate wasn't great. He held his own last year in high-A, increasing his walk rate and cutting his strikeout rate despite moving up a level, but I would worry that the jump to Class AA would expose the rawness of his offensive game right now. I wouldn't be shocked to see him outgrow shortstop, too.
• Former top Cubs prospect Jay Jackson was a shell of his former self on Wednesday, sitting 87-88 in his first inning of work and 85-87 afterwards with a flat slider, just generally getting whacked like a weed while unable to finish his assignment for the day. I have to assume he's hurt for his fastball to be missing that much velocity.
• On a brighter note, Cubs lefty Chris Rusin, a senior sign out of Kentucky in 2009, showed some promise as a back-end starter with good control of three pitches, nothing straight, including a two-seamer at 87-88 mph that had insane life on it. He throws with very little effort and generally located well, but the velocity is fringy enough (he touched 91 with a four-semaer) that he will get hurt if he doesn't develop plus command -- he left one such fastball over the plate and the hitter, Ed Easley, nearly put it out on Center Avenue. I could see a lot of use for Rusin, though -- at the absolute worst, he's an ideal emergency callup starter, but I think he's more than that. In a world where teams are willing to pay Zach Duke $4.25 million, there's a place for Chris Rusin at $400K.
Rumors.
Warning: Spoiler!
(Click to show)