I've been a Celtics season ticket holder since the summer of 07 and a Celtics fan since I was old enough to talk. I've recently started putting together a collection of Celtics PE's from the "Big Three" and will be hopefully adding some Rondo PE's to the collection soon. Luckily I wear the same shoe size as Ray Allen in some of his PE's so I can actually wear some of his if there is ever the right occasion (NBA Finals games????) Anyway here they are: 
First is a pair of Adidas TS Bounce Commander Signature in Kevin Garnett's colorway. These were a retail pair that I bought in my size. I'll probably wear these to play ball in the future: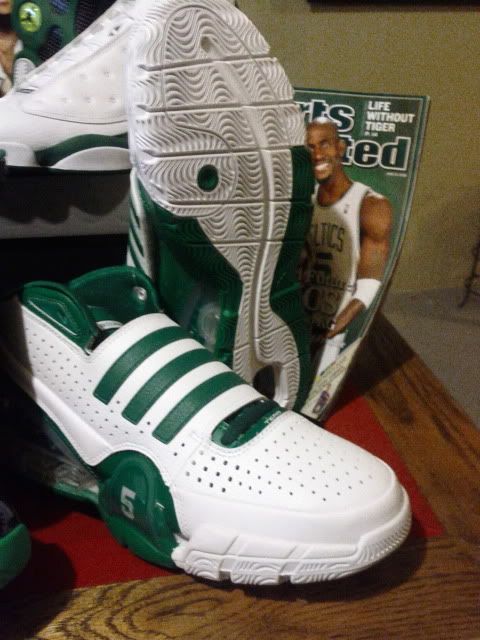 Next is a pair of Nike Air Max Hyperfly Supreme in the Paul Pierce PE colorway. I have been trying to find a pair of Paul Pierce's signature Air Legacy in men's sizes but they are tough to come by. These were a HOH release with Pierce's Psquared logo in a black patent leather and green colorway: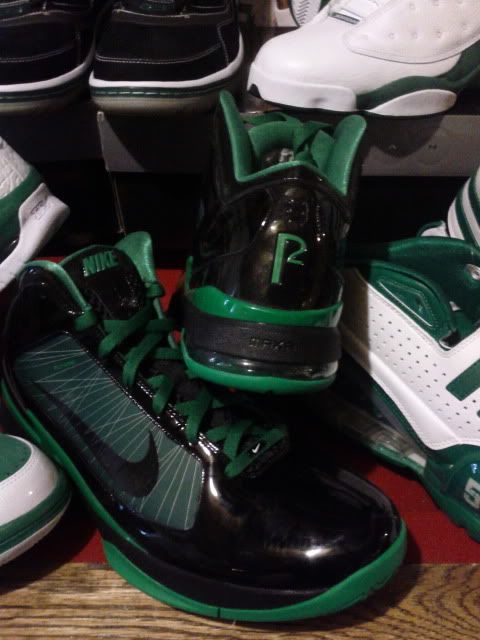 Next is my first pair of Ray Allen PE's. This is an Jordan 2.5 PE that Ray wore on Christmas Day 2008. This pair was from the limited retail release of this shoe. I swapped out the white laces for red to match the pair Ray wore for Christmas Day. It has Ray's "Sugar Ray" embroidered on the side: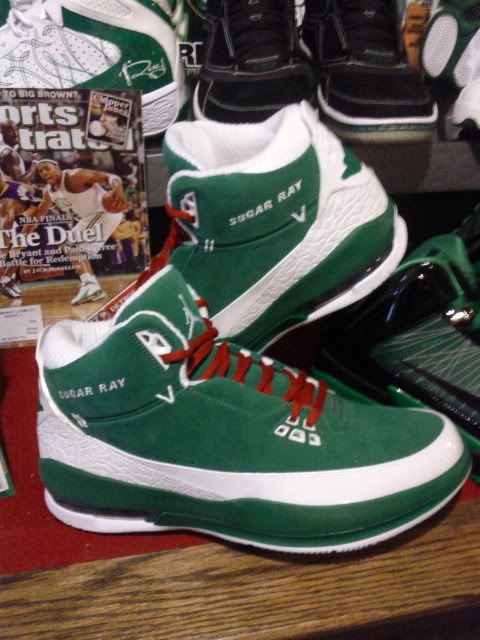 Next is a retail pair of Ray Allen Air Jordan Retro XIII, I bought these after months of searching for a DS pair in Ray's and my size, you already know about these:
These next two are very special to me because both pairs actually belonged to Ray Allen himself.
The first is a pair of Jordan Elements in Ray Allen's "away" PE black and green colorway. This shoe was given a limited retail release, but this is a Promo Sample pair that was actually issued to Ray to play in during the season. Ray never used this pair in a game, but he gave them to a Celtics employee who sold them to me. Here is a pic of the tongues with Ray's "Sugar Ray" in metallic green lettering on them: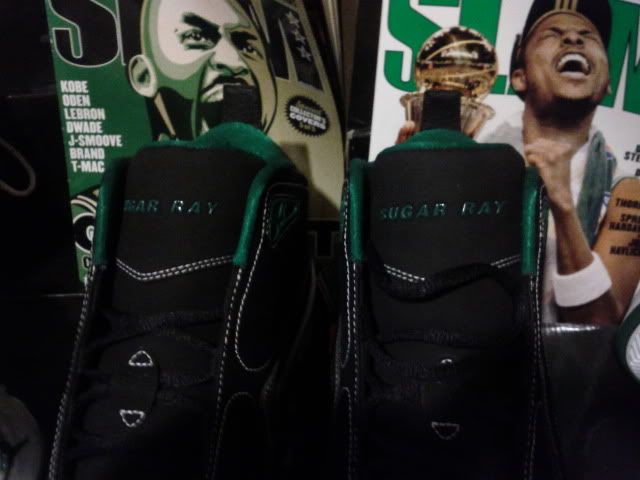 The last pair is a pair of Jordan Icons in Ray Allen's "home" PE Green and White colorway. This pair was also issued to Ray, but was never used in a game. The whole collection of all 7 colorways of the Ray Allen PE Jordan Icons was famously displayed at the Boston shop Concepts for a while, but not released at retail. This pair has Ray's Shootman logo embroidered on the Heel of both shoes.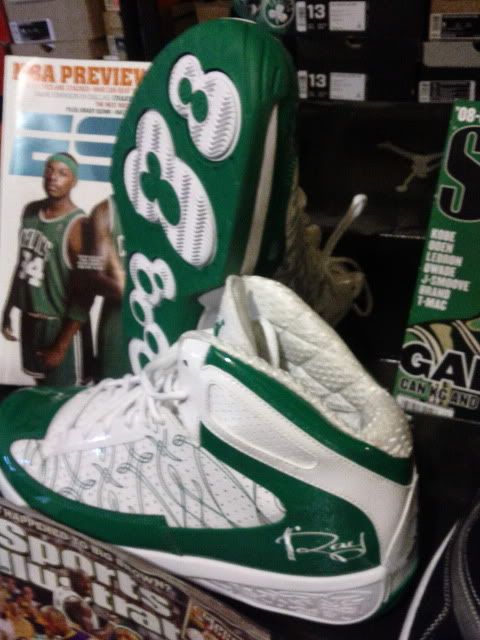 Here's the whole collection: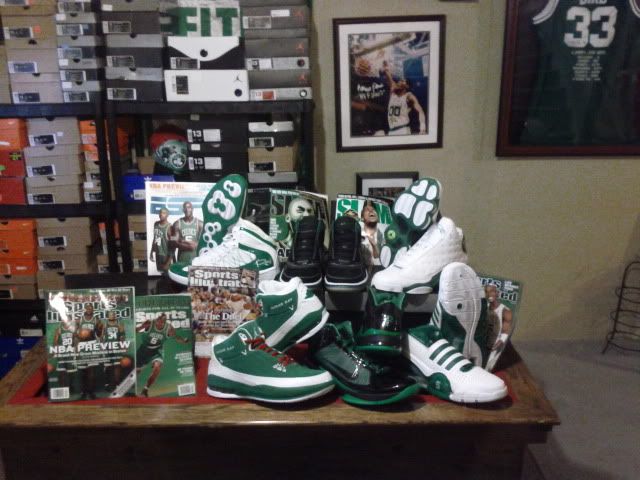 Now on to hunt for some Anta KG1s and KG2s, and some Rondo PE Hyperfuse and Hyperenforcers.