Quote:
Originally Posted by
fatboyslim891
Quote:
Originally Posted by
RELEVANT SX
Quote:
Originally Posted by
jrdnsrnss
Quote:
Originally Posted by
akf0dy7
i need some help as far as over exposing, i tried to get the smooth water look by lowering my shutter speed but the pictures came out waay to bright. ( im a total NOOB) any tips you can give me?
What second shutter speed did you use, it's not really recommended to shoot something like that in very bright sunlight like the one your in. Most time those flowing water shots are done in shaded secluded streams, lakes, rivers, etc.

or you could use a good neutral density filter to slow down your exposure.. do correct me if i'm wrong

if youre using a nikon set your exposure value (the button with the symbol) to -0.7

You can also try to use shutter priority (S for shutter priority on Nikon cameras and TV, time value on Canon cameras.) Try 1/6 of a second and you should be good. A tripod may be required if you haven't good image stabilization. These were taken in the middle of the day. Color balance is off in one of them as I forgot to change it in PS before upload but you get the idea. BTW someone asked how to change color balance in PS. An easy thing to try is to use adjustments>levels and then use the pipette to click the white balance. EDIT: Or even better is to shoot in RAW and then adjust the wb in Adobe Camera Raw.

1/2000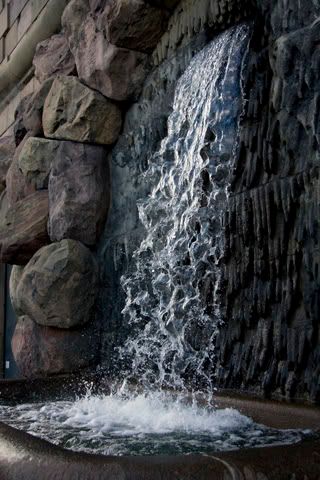 1/6