Steph Curry finally got his own signature shoe.  Under Armour Curry 1.  $120 retail.  Thread will be updated with confirmed release dates.
Officially unveiled 1/8/15.  Apparel and accessories out as well.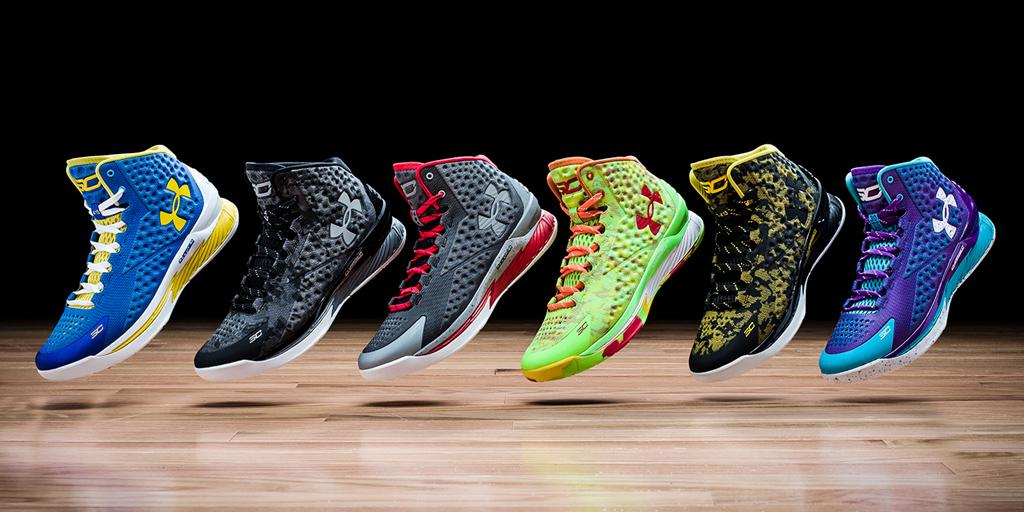 TECH:
Credit for the following info to streetinsider.com (full page can be seen here:  http://www.streetinsider.com/Press+Releases/Under+Armour+Debuts+Stephen+Curry%27s+First+Signature+Shoe/10151109.html)
Charged Cushioning: The ultimate advancement in energy. The new cushioning system absorbs impact and converts it into a responsive burst to give your first step and change of direction unmatched explosiveness. 
Anafoam: After studying a pressure map of the foot to identify where to distribute support, EVA foam and mesh were molded together to anatomically fit essential pressure points.
Additional performance benefits include:
An external heel counter that eliminates sliding and keeps your foot locked in place.
A midfoot TPU shank underfoot for maximum stability.
A multi-directional herringbone outsole delivering superior traction and control.
A padded mesh tongue with synthetic suede offering protection and increased breathability.
Each Colorway Tells a Story.  The colors tell their own story about Stephen's life on and off the court. The "Home" and "Away" colorways represent his love for the Bay area, his team and their fans. The Curry One "Home" features a Royal upper with Taxi and White accents.
The "Home" and "Away" colors feature the quote "I CAN DO ALL THINGS" on the inside tongue. The lace loop at the bottom of the tongue has "4:13," representing one of Stephen's favorite Bible verses, Philippians 4:13, that reads: "I can do all things through him who strengthens me."
Lace tips on the "Home and Away" feature respectively the acronym "MMTB" for "Make My Team Better," and "LEAD."
(credit for pics to sneakernews.com)
Home - 2/13/15, released!
ASG Colorway - "Dark Matter" (Purple/Yellow) - 2/13/15 - released!
Candy Reign (sour patch kids inspired) - 2/28/15 released!
Away - 4/3/15
The Underdog (Davidson colorway) - 4/3/15
MI30 - 4/18/15
Father to Son - 6/20/15
Curry's Lows (rumors for July, but only rumors so far)
Visit UA.com/CurryOne for launch details.
Edited by DeezyVSOP2 - 4/18/15 at 9:48am