Quote:
CNN)Patricia -- the strongest hurricane ever recorded -- barreled closer and closer Friday morning to Mexico's Pacific coast, where residents have been told to brace for its 200-mph sustained winds and torrential rains.
The Miami-based meteorological center, in its 10 a.m. CT (11 a.m. ET) advisory, warned of a "potentially catastrophic landfall ... in southwestern Mexico" late that afternoon or early evening. While its strength could fluctuate, "Patricia is expected to remain an extremely dangerous Category 5 hurricane through landfall."
Patricia has potential to cause massive death and destruction over a large swath of the Mexican Pacific coast, including the tourist hot spots of Puerto Vallarta and Acapulco.
Citing observations by hurricane hunters, Patricia is "the strongest hurricane on record in the National Hurricane Center's area of responsibility (AOR) which includes the Atlantic and the eastern North Pacific basins," according to a Friday morning forecast discussion.
The closest contender, at this point, might be Hurricane Camille when it battered the U.S. Gulf Coast in 1969. Regardless, Patricia looks to be more powerful than that storm, Hurricane Andrew in 1992, Katrina in 2005 and many others.
It's already surpassed them in one way: Its central pressure reading -- the weight of the air above a system -- which is a key measure of any storm's strength.
Live updates on Hurricane Patricia
The early Friday central pressure recording of 880 millibars (the barometric pressure equivalent is 25.98 inches) "is the lowest for any tropical cyclone globally for over 30 years," according to the Met Office, Britain's weather service.
Patricia's intensity is comparable to Typhoon Haiyan, which hit the Philippines in 2013, the World Meteorological Organization tweeted. More than 6,000 people died in Haiyan, due largely to enormous storm surges that rushed through coastal areas. Haiyan had 195-mph sustained winds when it made landfall, whileTyphoon Tip was at 190 mph (and had a slightly lower pressure reading of 870 millibars) in 1979.
Whether or not Patricia measures up to those Asian typhoons when it slams Mexico, CNN meteorologist Chad Myers said, "This is the only hurricane that's ever been this powerful."
What it's like to fly into a hurricane
MEXICO'S PACIFIC COAST ON HIGH ALERT
Late Friday morning, the storm was centered 125 miles (75 kilometers) southwest of Manzanillo, Mexico, and 195 miles south of Cabo Corrientes.
Moving at a 10-mph clip, it's forecast to pivot north-northeast later Friday and pick up speed -- especially after it makes landfall, when Patricia should both accelerate and "rapidly weaken over the mountains of Mexico."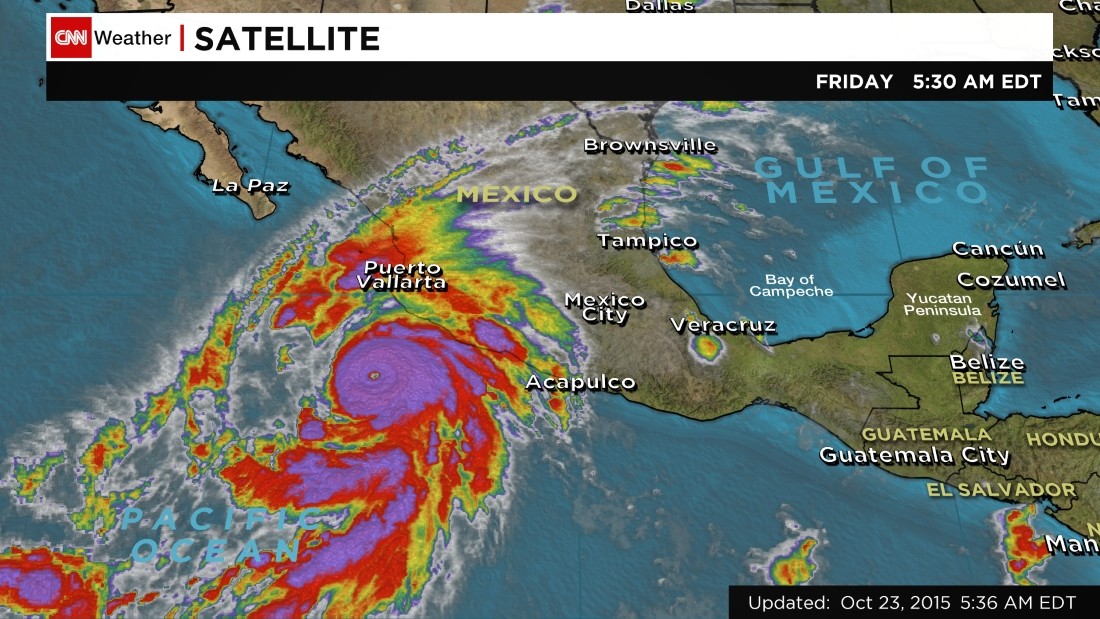 A satellite image shows Hurricane Patricia in the Pacific at 5:30 a.m. ET Friday.
A hurricane warning, which means hurricane conditions were expected within 24 hours, extends from San Blas to Punta San Telmo. A larger area, from east of Punta San Telmo to Lazaro Cardenas, is under a hurricane watch.
This means that millions of people, some of them tourists who'd gone to the coast to get away, are under threat.
Mexican authorities worked overtime to prepare for it. In a meeting that started Thursday night and extended into Friday morning, President Enrique Pena Nieto directed members of his cabinet to take immediate action in the face of what was then predicted to be the strongest hurricane in the eastern Pacific in the past 50 years, according to the official Notimex news agency.
Explaining Patricia's rapid rise, potential impact
Officials tried to alert those on the coast, especially in the states of Jalisco, Colima, Nayarit, Michoacan and Guerrero, to get ready by heading to shelters, staying home from school or doing what they could to be safe wherever they are. The Mexican presidency warned, via Twitter, that waterspouts and tornadoes could pop up as Patricia rampages through.Mexico's civil protection agency tweeted that over 1,780 shelters had been set up and that a 50,000-strong force has been mobilized in Jalisco, Colima and Nayarit alone. In addition, about 4,000 Mexican navy officers have been dispatched to areas expected to bear the brunt of Patricia's wrath.All flights to and from the airports in Puerto Vallarta and Manzanillo were suspended.As authorities converged, residents did what they could by boarding up windows and piling up sand bags along beaches in places such as Manzanillo in hopes of blunting what's expected to be a colossal storm surge.
http://www.cnn.com/2015/10/23/americas/hurricane-patricia/index.html
Edited by tyonenine - 10/23/15 at 10:27am
Heat| Eagles|Hurricanes |Dolphins|Chelsea FC
NT Madden 16 League Season 2 Champion
Heat| Eagles|Hurricanes |Dolphins|Chelsea FC
NT Madden 16 League Season 2 Champion