A man stabbed three people at an east London tube station Saturday before police subdued him with a stun gun and made an arrest, London's Metropolitan Police said.
Police said they were treating the stabbing at Leytonstone station as a terrorist incident.
One man sustained serious injuries not considered to be life-threatening, police said. Two others suffered minor injuries.
The incident happened just after 7 p.m., police said. The suspect was taken to a London police station.
Commander Richard Walton, who leads the Met's Counter Terrorism Command, said: "We are treating this as a terrorist incident."
"I would urge the public to remain calm, but alert and vigilant. The threat from terrorism remains at severe, which means that a terrorist attack is highly likely."
A senior European counterterrorism official told CNN this week that intelligence obtained by European security agencies indicates ISIS is aiming to attack the United Kingdom following the terrorist attack in Paris last month.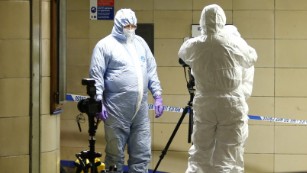 Police officers investigate the tube station late Saturday, December 5.
Video Here 
https://twitter.com/Holbornlolz/status/673246576249294848
Sign up for ebates 
http://www.ebates.com/rf.do?referrerid=aifAhxvt09XSa0u4%2Bj50sQ%3D%3D&eeid=28187
My IG: joespeed - basically cars, shoes and my dogs 
Sign up for ebates 
http://www.ebates.com/rf.do?referrerid=aifAhxvt09XSa0u4%2Bj50sQ%3D%3D&eeid=28187
My IG: joespeed - basically cars, shoes and my dogs