1,282
214
Joined Jan 27, 2009
pretty dope
OG link to ESPN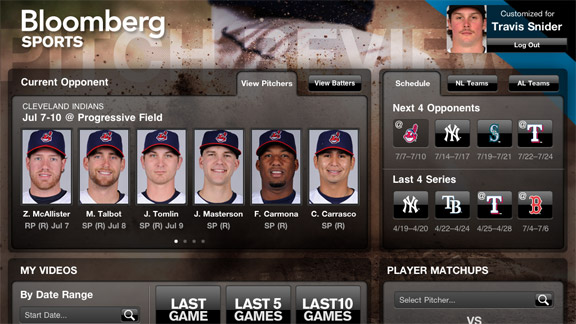 If you want to access Bloomberg Sports' newest iPad product,there's only requirement: You have to play in the major leagues.

After entering the sports business just over a year and ahalf ago, Bloomberg has quickly found success with its fantasy tools as well asanalytics and video products targeted specifically for professional team andbroadcast use. The company even earned a spot on Fast Company's "Ten MostInnovative Companies in Sports" list in 2011.

In an effort to continue that innovation, the company spenthours talking to players, coaches, front office personnel and other industryinsiders to figure out what they could offer next. One recurring theme thatcame up was video preparation, an essential part of a player's pregamepreparation. When in the clubhouse, video coordinators provide video forplayers to study. However, away from the stadium, players didn't have that sameaccess. Until this season.

"Pitch Review" is a program customized for eachplayer that gives him individualized stats and video rights on his iPad.

"For example, today we're facing Tim Wakefield,"Blue Jays outfielder Travis Snider said, demonstrating the program before arecent series against the Red Sox. "I just click on his picture, and itloads all my at-bats versus Tim Wakefield. I can click on my last five games,10 games. You can go through and highlight specific at-bats where you put agood swing on a ball or something you'd like to remember in the future."

Players can highlight specific pitch types, hit types andscenarios varying from one runner on base and two outs to three runners on baseand no outs. In short, the filter possibilities are almost endless. Hittersalso can watch not just how they've done against a pitcher, but how he's thrownagainst similar hitters.

Hitters can watch themselves against the pitcher they'll befacing that day. For pitchers, the application provides them with the lineupthey're expected to face. So if Rangers starter C.J. Wilson is facing theAngels, when he opens "Pitch Review," it's cued up to show him howhe's pitched in his past outings against the entire lineup.

So far, almost 100 players are using the product, includingWilson, Snider, Yankees outfielder Nick Swisher, Cardinals first baseman AlbertPujols, Phillies pitcher Roy Oswalt and Milwaukee pitcher Zack Greinke.

"The first month or two, we got a lot of feedback aboutmaking sure it loaded quickly, making sure the interface was easy," saidBill Squadron, head of Bloomberg Sports. "I would say in the last sixweeks, the most common, almost unanimous response I've seen in the reports I'vegotten were, 'This is sick.'"

The biggest advantage is accessibility.

"I like it because I don't like to get away from mylocker," Blue Jays catcher Jose Molina said. "You just get it on youriPad and open it up and see it right here. It's just one of those things thatyou really want to have for yourself."

Making sure that the technology was accessible and somethingplayers felt comfortable using was also key.

"I had just got an iPad, and when the people fromBloomberg came and broke down how to use the app, it was an exciting thing tosee how convenient it would be to use anywhere, anytime," Snider said."You talk about technology, and I'm not real in tune with all that. I wasvery impressed by how easy it is to use. It's very self-explanatory."

Bloomberg has solicited feedback from the players throughoutthe season in an effort to improve the product. The updated version of"Pitch Review" incorporates as much of that input as possible. Basedon player input, Bloomberg accelerated developing slow motion for theapplication.

"It's something I've shown around and guys thought itwas pretty cool," Snider said. "It's exciting for everybody to seetechnology and the game of baseball advance in the way it is."

Since the product's initial launch, it's attracted new usersmostly through word of mouth. Currently, players are using it on a free trialbasis. Bloomberg plans to monetize "Pitch Review" down the road.

"[When the trial period is over], hopefully, the pricewon't be too high," Molina said. "I'll probably do it anyway becauseI like it."

Bloomberg's iPad player application is another example ofhow technology is changing baseball. The consumer base might be small, but italso appears to be a loyal one.