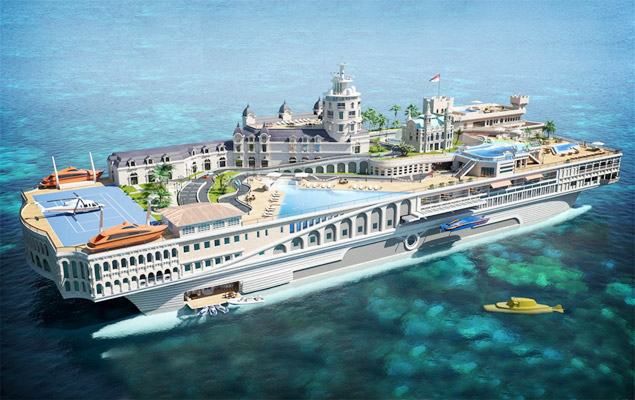 [h4]
Streets of Monaco Yacht
[/h4]Type of Vessel: SWATHLength: 155m
Naval Architect: BMT Nigel Gee
Yard: TBA Guests: 16
Crew: 70 Speed: 15 knots
Propulsion: Diesel Electric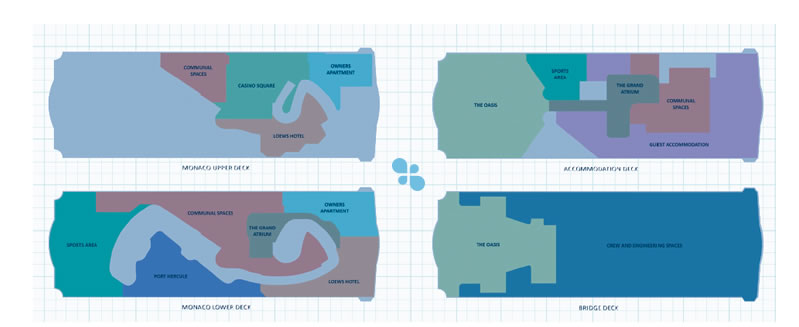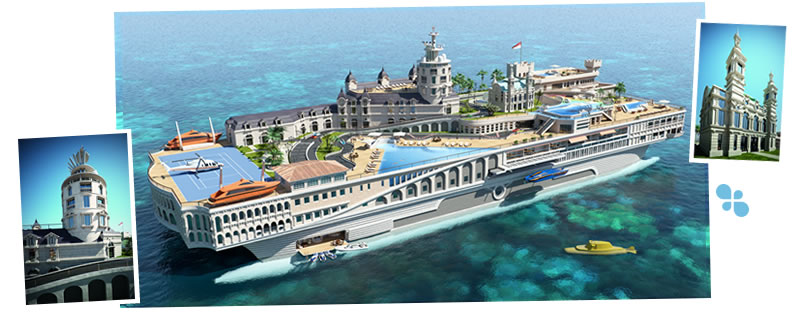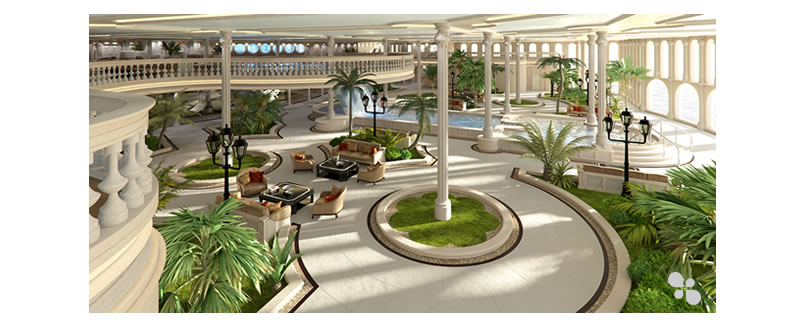 'The Oasis', located aft, acts as the main boarding point for the yacht, an expansive area modelled on the gardens just outside the Monaco Casino. On entering the Oasis, attention is immediately drawn to the central waterfall feature consisting of upper level pools cascading down into the lower pool and Jacuzzi. Radiating from the pool are numerous shrub lined pathways and secluded seating areas. Large exterior windows surround the entire aft section of the oasis, extending to the full double deck height ceiling allowing natural light to flood the space. Located forward on the lower level is the Spa, with manicure and hair salon, private massage suites, sauna/steam rooms and a large relaxation lounge featuring a spa pool with bar. To either side of the spa entrance are located grand marble staircases and elevator access to the mezzanine, with a cafe bar and magnificent views of the gardens below.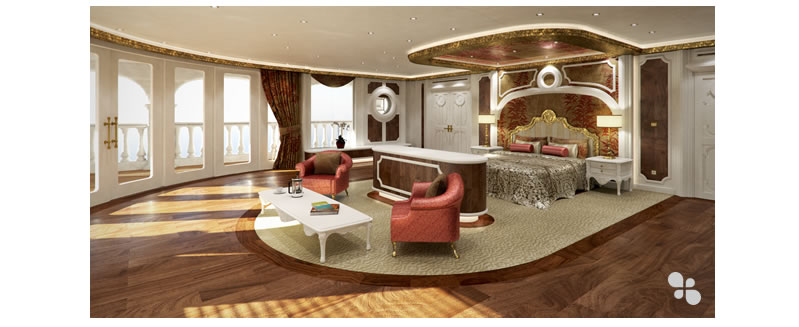 'The Grand Atrium' is the central hub of the yacht, linking the upper and lower living areas. At its centre is a large, ornate spiral staircase which surrounds a waterfall feature that is supplied by the glass bottomed fountain from the garden area above. A small cafe/bar area ensures this feature can be enjoyed while relaxing in comfort. The seven guest suites are located off of the lower atrium level and vary in size, from the more modest 135 m2 suite to the grand 356 m2 VIP suites. All include their own reception room, bathroom, dressing room, bedroom and balcony. The VIP suites have the added luxury of a private office.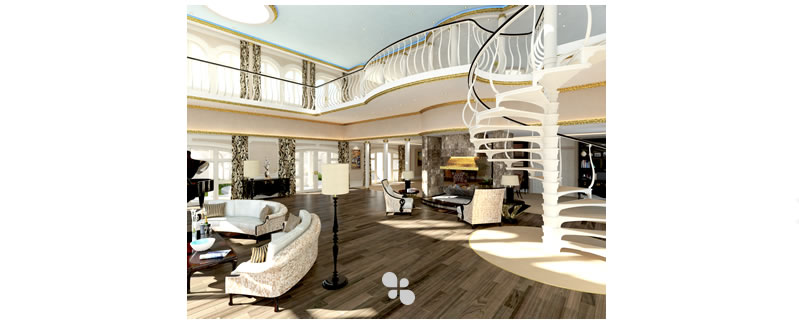 At the farthest end of the Atrium lies the Owners Apartment. Connected to all decks via a private lift and spread over 3 floors, it covers a total 1460 square metres of floor space. As well as the usual lounge with a feature fire place and double height ceiling, office, bedroom, bathroom, his/hers dressing rooms, the apartment also benefits from a listening room, private courtyard, sunroom, numerous balconies and private sundeck with a Jacuzzi/swimming pool.
[h4]
Tropical Island Paradise Yacht
[/h4]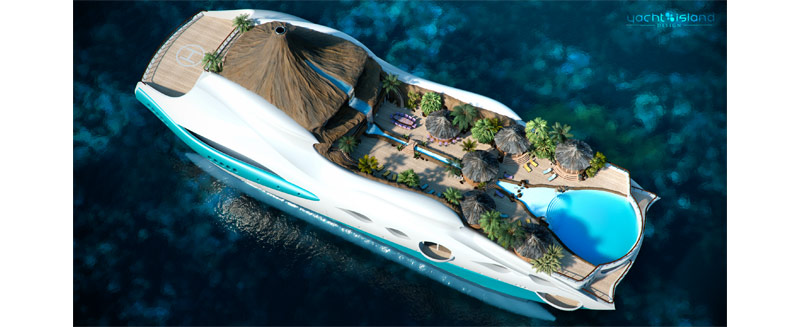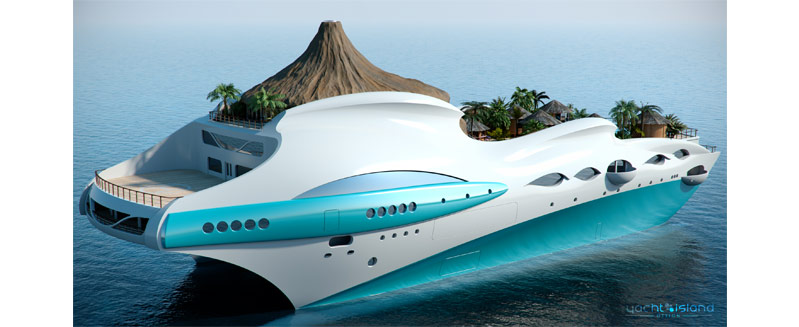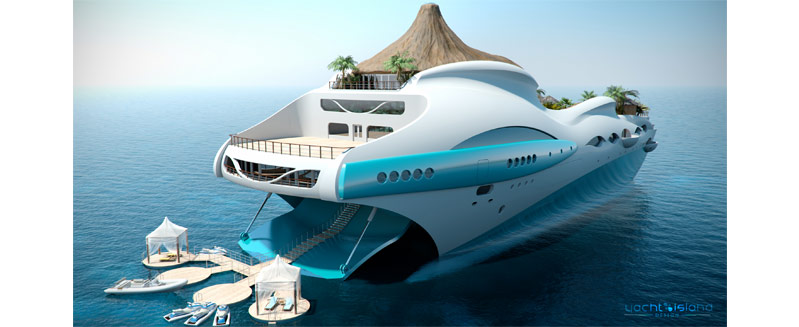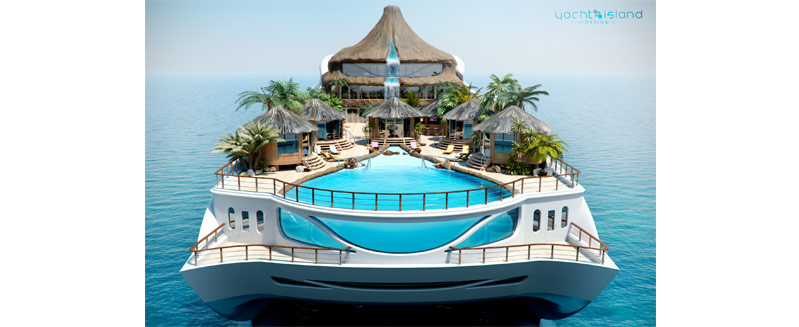 F T-Rex bone, I want a damn volcano on a yacht
.