30,089
2,642
Joined Feb 7, 2008
* 2011 NFC North Trash Talking Thread *
Hello, and welcome back! August is right around the corner, which means that time of the year where the NFL seizes control of our busy lives isn't far out. This thread is for the NFC North fans that want to let loose, bang at their keyboards, and tell every low-grade, inferior and lousy opposing fan why their team will be low-grade, inferior, and of course... lousy.
Get banned, get suspended, get warned.... get wild. But have fun.
Before we start, lets look at some of the mind-numbing and maniacal statements that were made in last year's trash talking thread, shall we?
.......
Other storylines from last season that will shape 2011:


The Minnesota Vikings, in a season filled with Super Bowl expectations and an "Unfinished Business" mentality, finish last in the division, and endure numerous off-the-field distractions (ie. Randy Moss release, Brad Childress being fired, etc.)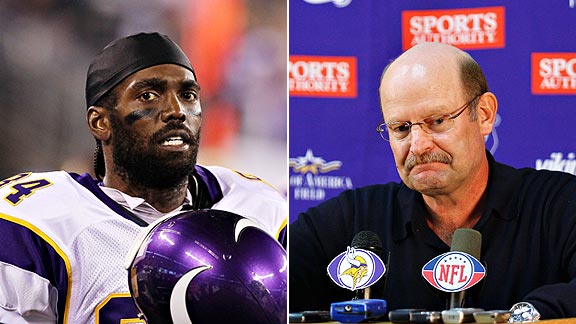 The Chicago Bears forced all the doubters to eat their words by breaking through and winning the division for the first time since 2006, finishing 11-5. However, their season was cut short in the NFC Championship against the Packers, where many begin to doubt Jay Cutler's "toughness".


The Detroit Lions started out 2010 strong, but maybe had their fuse cut amidst the "Calvin Johnson rule" debacle. Proving their worth, the Lions finished the 2010 season 6-10 with a young core filled with high hopes for the future.

The Green Bay Packers win the Super Bowl, defying the odds and stunning the skeptics. Aaron Rodgers wins Super Bowl MVP, and the Lombardi Trophy is once again returned to the city of Green Bay. They will begin their title defense on September 8th versus the Saints, on NBC.


....
Fast-Forward to the 2011 Season Now.....
Chicago Bears Fans on NT
CasperJr
,
THE GR8
,
therenegade23
,
koolbarbone
,
Feasting Horns
,
Joe Billionaire
,
Stringer Bell 32
,
arstyle27
,
tylerdub
,
CurtisCarter23
,
http://imasoleman18.niketalk.yuku.com/
assyrianplaya
,
shabooyah1124
,
illmatic34
,
bijald0331
,
jose cansec0
,
AntBanks81
Detroit Lions Fans on NT
Que?
Green Bay Packers Fans on NT
fraij da 5 11
,
Jehlers02
,
RetroBaller
,
Wisconsin 4 Life
,
AJ27526
,
youngmoney
,
i LyricaLJKilla i
,
mjd77
,
PlatinumFunk
,
AirForce1s
,
freezelle
,
sho3tym
,
CarolinaPack04
Minnesota Vikings Fans on NT
651akathePaul
,
RyGuy45
,
SFN 155
,
JPZx
,
hymen man
,
DTruth07
,
minnetrapolis
,
kix4kix
,
memphisboi55
,
coryturner
,
truthmain
,
rsdplaya
,
nnarum
,
mogzz04
,
houser34
Lets have a good season and represent the NFC North well