Seem like post apocalyptic dome city in the desert a reality.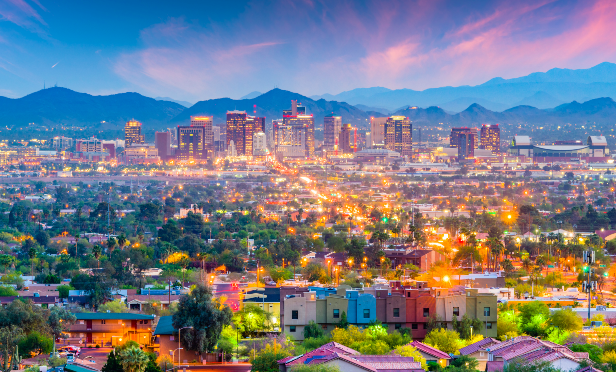 The billionaire purchased 24,000 acres outside of Buckeye in Arizona and an additional 2,800 acres in Buckeye.
www.globest.com
A few years ago, Bill Gates has announced plans to build a smart city outside of Buckeye in Arizona. Through his subsidiary Mt. Lemmon Holdings, the billionaire spent $80 million to purchase more than 24,000 acres of land with plans to build a smart city, which will include housing, schools, offices and retail. Since the purchase, there has been limited information on the development of the project.
"In November 2017 the media reported that a company associated with Bill Gates purchased 24,800 acres in the Southern Valley between Buckeye and Tonopah for $80 million,"
James DeCremer
, principal at
Avison Young
in Phoenix, tells GlobeSt.com. "Gates' company plans to create a "smart city" called Belmont on the site, which will be similar in size to Tempe, Arizona. According to the Arizona real estate investment company involved in the deal, Belmont Partners it will be 'a forward-thinking community with a communication and infrastructure spine that embraces cutting-edge technology, designed around high-speed digital networks, data centers, new manufacturing technologies and distribution models, autonomous vehicles and autonomous logistics hubs.'"
In addition, the company has also acquired additional acreage in Buckeye. "In October, Gates was also a recent investor in more than 2,800 acres of land in Buckeye," says DeCremer. This could be an addition to the firm's current plans in the market.
The location is ideal for a smart city experiment. In addition to the phenomenal growth that Phoenix is experiencing, Buckeye is also seeing a surge in growth that will help support a smart city. "Real estate developers are scrambling to keep up with Buckeye's growth, with approximately 21,000 single-family homes in various stages of entitlement and construction across 30-plus planned communities, including Blue Horizons, Arroyo Seco, Verrado, Westpark, Tartesso and Festival Ranch," says DeCremer.
In addition to Gates' purchase, developers are also actively building in the city. "The city issued over 2,600 new single-family permits in 2019, projects another 3,000 in 2020, and expects this activity to continue at a fast pace for decades to come," says DeCremer. "In addition to single-family homes, Buckeye needs more multifamily development to provide rental apartments for the influx of new residents. Developers are also contemplating new types of housing, such as townhomes, condominiums, and senior care facilities."